The storage of refractory bricks
Date:
2017-11-06 09:07
From:
Zhengzhou Sunrise Refractory
Author:
sunrise
When starting the firebrick, special attention should be paid to avoid the collision, so as to avoid the crack and Angle, and influence the quality of refractory brick. In order to move, it is necessary to bind the firebrick with rope and rice, and gently place it in the handling process.
In order to adopt the convenience, avoid the wrong use, should according to the breed of firebrick, shape, model is different and separately stacking. Each type of refractory brick should be saved according to the actual demand. The storage site should be dry, so as to avoid the quality of water resistance.
After the refractory brick enters the factory, should carry out the verification selection work, will not be able to remove from the grid (if have the crack and the Angle). When verifying, it is important to pick up the chemical composition, model and shape of the refractory brick. If it can be used for fire resistance, quenching and heat resistance, pressure resistance, etc., it will be better. If the error is not greater than 3mm, if the error is too large, the brick will be difficult to ensure.
The high quality of refractory brick is one of the key conditions to determine the safe operation of kiln. Therefore, it is important to pay attention to the handling of firebrick and the preservation and verification of firebrick.
Refractory bricks can be used to supplement the pores between the iron particles, and produce the gel with the liquefaction products and with the alkaline magnesium oxide lining. In the concrete, mortar and refractory materials of the cast iron base, an appropriate amount of firebrick is added, and the steel and pouring materials of refractory bricks should be made by the laboratory. It is better to work together than to build. In the agitation of firebrick steel, refractory brick should be added after the bone material release. Refractory brick in in the process of forming, the effect of tension by phase transformation in the process of the cortex, constitute an amorphous phase and amorphous and cortex was full, some are more sphere particles stick together in one body. It is a volcanic ash that is very large and has very high activity. Mixed with refractory materials, fine spherical body can lubricate the effect.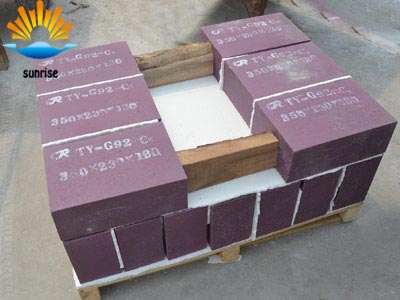 Send an Inquiry
E-mail : sales@sunriserefr.com
Phone : +86-371-63838939   /   Fax:+86-371-63835539
Company Address : No.36 Fengchan Road Of Zhengzhou, Henan, China (Mainland)

If you have any needs our help or are interested in our products, you can click online advisorychat with us online, or call our customer service telephone: 0086-0371-63838939. We will sincerely serve for you!
Product Category
Venezuela customer AZS fused float glass furnace br...