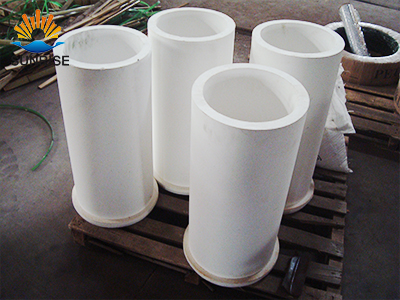 Sillimanite Special Brick
Cold Crushing Strength:≥45 Mpa
0.2Mpa Refractoriness Under Load T0.6:≥1550℃
Permanent Linear Change On Reheating (%)1500℃X2h:±0.1
Thermal Shock Resistances 100℃ water cycles:≥20
Reversible Thermal Expansion 1000℃:0.55
Pyrometric Cone Equivalent S.C.SK:35
Get a Quotation
Send Message
Overview
Silimanite brick is a kind of refractoriness which made by silimaniteand other minerals. And silimanite can be transformed to be mullite under more 1500℃ high temprature.
Silimanite brick are mainly used in high temprature furnaces, such as glass melting furnace,etc.
►
The main applications are:
◆ Rider arches
◆ Forehearth superstracture
◆ Bushing for rochwool and fiber glass
►
Specifications:
◆ Dense structure
◆ Good thermal shock resistance
►
Advantages:
◆ Corrosion-resistant
◆ High quality
Technical Data
Item
GXS-50
GXS-60
Chemical composition
Al2O3
≥50
≥60

SiO2
≤45
≤38

Fe2O3
≤1.2
≤1.0
Apparent Porosity (%)
≤18
≤18
Bulk Density (g/cm3)
≥2.4
≥2.5
Cold Crushing Strength (Mpa)
≥45
≥50
0.2Mpa Refractoriness Under Load T0.6 (℃)
≥1550
≥1600
Permanent Linear Change On Reheating (%) 1500℃X2h
±0.1
±0.1
Thermal Shock Resistances 100℃ water cycles
≥20
≥20
Reversible Thermal Expansion 1000℃
0.55
0.6
Pyrometric Cone Equivalent S.C. SK
35
36
Range of Application
Rider Arches
Superstructure forehearth
Inquiry
If you have any needs our help or are interested in our products, you can click online advisorychat with us online, or call our customer service telephone: 0086-0371-63838939. We will sincerely serve for you!
Product Category
Venezuela customer AZS fused float glass furnace br...