Refractory selection principles Refractory selection before you need to first understand the following factors
Date:
2018-01-31 15:16
From:
Zhengzhou Sunrise Refractory
Author:
sunrise
① the life of the pool furnace; ② glass quality requirements; ③ production capacity, that is, the melting rate and melting temperature selection; ④ insulation, in order to save fuel in the Which parts to take insulation; ⑤ economy, that is, how much investment. In the selection of refractory materials to hijack the use of requirements to ensure the economy of the pool furnace, easy to manufacture. (1) Ensure that all kinds of refractory materials used for building glass pool furnaces should meet the following basic requirements: ①High softening and melting temperature, generally not less than 1580 ℃. ② sufficient mechanical strength, can resist the impact, friction, high temperature high-speed flame, dust erosion and other mechanical effects. ③ high temperature structural strength, operating temperature can withstand long-term mechanical load. ④ melting compound ingredients, molten glass and gaseous substances erosion resistance strong. ⑤ the pollution of the glass should be small. ⑥ hot and cold-resistant thermal performance (thermal shock) is good. ⑦ high temperature volume stability, residual contraction or expansion of small. ⑧ heat capacity, thermal expansion, thermal conductivity and other thermal properties to meet the requirements. ⑨ shape regular, accurate size. ⑩ other requirements according to the conditions of use (such as the electrical properties of the electrode brick to meet the requirements). (2) to ensure the economy of the pool furnace Refractories should be taken from the actual departure, the full study of the entire furnace furnace refractory life balance of various parts, with less investment to achieve greater economic results. Fully guarantee the economy of the glass pool furnace and the balance of the life of the pool furnace. (3) easy to manufacture and choose Refractory, should be taken into account the use and manufacture of both. Refractory brick, the standardization of the size is conducive to the development of refractories production, easy to achieve the finalization of the glass pool furnace is conducive to construction and maintenance. S & P brick usually cost 30% to 50% less than shaped brick. Indigenous glass furnace should be given priority to the use of standardized refractory brick.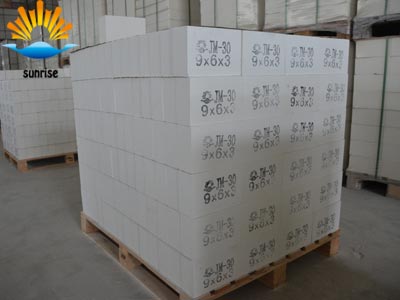 Send an Inquiry
E-mail : sales@sunriserefr.com
Phone : +86-371-63838939   /   Fax:+86-371-63835539
Company Address : No.36 Fengchan Road Of Zhengzhou, Henan, China (Mainland)

If you have any needs our help or are interested in our products, you can click online advisorychat with us online, or call our customer service telephone: 0086-0371-63838939. We will sincerely serve for you!
Product Category
Venezuela customer AZS fused float glass furnace br...