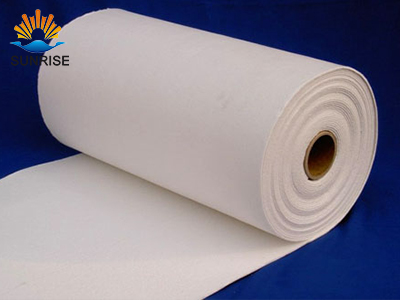 Overview
▶

Product Description:
Sunrise Ceramic fiber paper is made of high-purity ceramic fiber cotton by pulping, drying and trimming.The fiber distribution is uniform, the size is accurate, the appearance color is white, the slag ball content is low, the cohesive force between layers is good, the tensile strength is high, easy to cut out, easy to use.With excellent high temperature resistance and heat insulation performance, and has excellent heat penetration resistance, can be widely used in construction, glass industry.
▶

Product Characteristics:
◆ Low thermal conductivity, low thermal capacity, thermal shock resistance;
◆ Excellent chemical stability and corrosion resistance.Impervious to most corrosive agents.(except hydrocyanic acid, phosphoric acid and concentrated base);
◆ High tensile strength, high flexibility, low slag ball content, accurate thickness;
◆ Free of asbestos and corrosive substances;Flexible and tear resistant;
◆ Excellent electrical insulation and sound insulation;
◆ Easy to cut and use.
▶

Application:
◆ Various industrial furnaces, ladles, submerged nozzle high temperature thermal insulation materials;Electrical insulation and heat insulation materials for industrial electric furnaces;
◆ Furnace door, furnace body expansion joint sealing material;
◆ High temperature sealing gasket;
◆ Insulation of household appliances and high temperature parts;
◆ Insulation and heat insulation materials for instruments, equipment and heating elements;
◆ Automobile industry thermal insulation materials, vehicle exhaust emissions muffler thermal insulation materials.
Technical Data
Type
Standard1260
HA1300
HZ1430
Bio-Soluble Fiber 1100
Operating Temperature (℃)
1100
1200
1350
1000
Density (kg/m3)

190-210
Coefficient of thermal conductivity
(W/m.k)
0.085(W/m.k) 400℃
0.132(W/m.k) 800℃
0.18(W/m.k) 1000℃
Tensile strength (Mpa)
≥0.3
LOI (%)
≤8

Common Size(mm)
90000*610/1220*0.5mm;
60000*610/1220*1mm;
30000*610/1220*2mm,
20000*610/1220*3mm;
15000*610/1220*4mm;
12000*610/1220*5mm;
10000*610/1220*6mm;
6000*610/1220*10mm;
Other size can customized
Package
Cartons
Inquiry
If you have any needs our help or are interested in our products, you can click online advisorychat with us online, or call our customer service telephone: 0086-0371-63838939. We will sincerely serve for you!
Product Category
Venezuela customer AZS fused float glass furnace br...